Story – ASA Athletic:- The South African team will be looking to open their campaign with a bang, targeting multiple medals on the opening day of competition at the CAA African Senior Athletics Championships which gets underway in Mauritius from Wednesday 8 June 2022.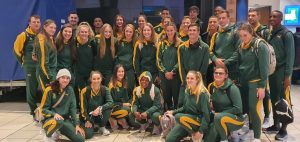 SA Athletic team – photo provided
Three South African athletes will fancy their chances in the women's shot put final during the morning session.  Defending champion Ischke Senekal, World U20 Championships bronze medallist Dane Roets and 21 year-old Meike Strydom are all in with a chance and will want to get as close as they can to securing a podium sweep.  Later in the afternoon session, SA champion Mbuleli Mathanga and national 5 000m record holder Elroy Gelant, will turn out in the men's 10 000m final. The duo will be eager to put up a fight against a strong East African contingent which will want to extend its distance-running dominance on the continent.
In the men's hammer throw final, a trio of South African athletes will also be eager to make a statement. Alan Cumming, Tshepang Makhethe and Renaldo Frechou will be aiming for the podium in the last final in the afternoon of Day 1. The SA team are aiming at reclaiming the top spot in the overall standings, after finishing second behind Kenya on the medals table at the last edition of the CAA African Senior Athletics Championships in Asaba, Nigeria in 2018.
"Sixty athletes in the 90-strong member squad left this morning (Tuesday). The balance of the athletes (34) left as a first batch on Saturday, with another four flying in from Europe on Monday," said Shireen Noble, the Vice-President  of Athletics South Africa, ahead of her departure with the team at OR Tambo International Airport, Johannesburg on Tuesday morning. "We hope we are going to reclaim our position by taking first place on the medals table and we are confident of achieving our goal with the strong team we have."
Senior athlete, Wenda Nel in the women's 400m hurdles, said: "I'm very excited to be going to the African Championships which will be my last since I'm retiring from athletics at the end of this season. So, I'm looking forward to enjoying it, do my best and try to be on the podium. All the best to the rest of the team. They must have fun and then go for it." Benjamin Richardson, men's 200m, said: "It's my first time in the senior category at the African Champs, but I'm hoping to make the final and possibly s place in the podium, and post a new PB (personal best)." The five-day continental showpiece will conclude on Sunday, 12 June. No spectators will be allowed, with Mauritius remaining under Covid-19 lockdown.
# NeedToWinIt      #BringItBack
CAA AFRICAN CHAMPIONSHIPS
MAURITIUS 8-12 JUNE 2022
FINAL TEAM
 

NAME & SURNAME

GENDER
PROV.
EVENT
1
Akani SIMBINE
M
AGN
100m/4x100m
2
Henricho BRUINTJIES
M
AGN
100m/4x100m
3
Clarence MUNYAI
M
AGN
200m/4x100m
4
Sinesipho DAMBILE
M
AGN
200m/4x100m
5
Benjamin Anadi RICHARDSON
M
AGN
200m/4x100m
6
Zakithi NENE
M
KZNA
400m/4x400m
7
Tumisang SHEZI
M
AGN
400m/4x400m
8
Gardeo ISAACS
M
BOLA
400m/4x400m
9
Tshepo TSHITE
M
AGN
800m
10
Jabolane NCAMANE
M
AGN
800m
11
Kabelo MOHLOSI
M
ANWN
800m
12
Ryan MPHAHLELE
M
CGA
1500m
13
Mbuleli MATHANGA
M
KZNA
10000m
14
Elroy GELANT
M
ACNW
10000m
15
Ashley Fergus SMITH
M
BOLA
3000mSC
16
Wayne SNYMAN
M
AGN
20kmRW
17
Leroux HAMMAN
M
AGN
400mH
18
Johannes PRETORIUS
M
AGN
400mH
19
Sokwakhana ZAZINI
M
AGN
400mH
20
Sabelo DHLAMINI
M
CGA
4x400m Mixed
21
Antonio ALKANA
M
BOLA
110mH
22
Ruan DE VRIES
M
AGN
110mH
23
Rivaldo ROBERTS
M
AGN
110mH
24
Jovan VAN VUUREN
M
AGN
Long Jump
25
Cheswill JOHNSON
M
CGA
Long Jump
26
Mpho LINKS
M
CGA
High Jump
27
Brian RAATS
M
CGA
High Jump
28
Hendrik VAN WYK
M
ACNW
Pole Vault
29
Elmar SCHUTTE
M
USA
Pole Vault
30
Lleyton DAVIDS
M
BOLA
Triple Jump
31
Kayle BLIGNAUT
M
CGA
Shot Put
32
Cian DE VILLIERS
M
CGA
Shot Put
33
Victor HOGAN
M
BOLA
Discus Throw
34
Werner VISSER
M
CGA
Discus Throw
35
Francois PRINSLOO
M
BOLA
Discus Throw
36
Alan CUMMING
M
ACNW
Hammer Throw
37
Tshepeng MAKHETHE
M
AGN
Hammer Throw
38
Renaldo  FRECHOU
M
BOLA
Hammer Throw
39
Johannes GROBLER
M
ACNW
Javelin Throw
40
Philippus VAN RENSBURG
M
AMPU
Javelin Throw
41
Marcelle DE JAGER
M
BOLA
Decathlon
42
Jesse PEREZ
M
BOLA
Decathlon
43
Fredriech PRETORIUS
M
AGN
Decathlon
44
Carina HORN
F
AGN
100m/4x100m
45
Phindile KUBHEKA
F
AGN
100m/4x100m
46
Tamzin THOMAS
F
ACNW
100m/4x100m
47
Banele SHABANGU
F
AGN
200m4x100m
48
Shirley NEKHUBUI
F
EPA
200m/4x400m
49
Miranda COETZEE
F
ANWN
400m4x400m
50
Precious MOLEPO
F
AGN
400m4x400m
51
Marlie VILJOEN
F
AGN
400m4x400m
52
Prudence SEKGODISO
F
AGN
800m
53
Gena LÖFSTRAND
F
KZNA
800m
54
Marli DIMOND
F
AVT
800m
55
Danielle VERSTER
F
ACNW
1500m
56
Carina VILOEN
F
CGA
1500m
57
Caster SEMENYA
F
AGN
5000m
58
Kyla JACOBS
F
WPA
5000m
59
Glenrose XABA
F
AGN
10000m
60
Cian OLDKNOW
F
CGA
10000m
61
Cacisile SOSIBO
F
CGA
10000m
62
Marione FOURIE
F
AGN
100mH/4x100m
63
Charlize EILERD
F
AGN
100mH/4x100m
64
Marzaan LOOTS
F
AGN
100mH
65
Zeney VAN DER WALT
F
AGN
400mH/4x400m
66
Wenda NEL
F
AGN
400mH/4x400m
67
Taylon BIELDT
F
AGN
400mH/4x400m
68
Marissa SWANEPOEL
F
ACNW
20kmRW
69
Shanese DE KLERK
F
AMPU
High Jump
70
Yvonne ROBSON
F
AGN
High Jump
71
Mia JANSE VAN RENSBURG
F
AGN
High Jump
72
Mire REINSTORF
F
BOLA
Pole Vault
73
Nicole JANSE VAN RENSBURG
F
USA
Pole Vault
74
Erica MOOLMAN
F
USA
Pole Vault
75
Danielle NOLTE
F
AGN
Long Jump
76
Eljone KRUGER
F
ACNW
Long Jump
77
Karmen FOUCHE
F
ACNW
Long Jump
78
Ischke SENEKAL
F
EPA
Shot Put
79
Dane ROETS
F
CGA
Shot Put
80
Yolandi STANDER
F
AFS
Discus
81
Riette HEYNS
F
ACNW
Discus
82
Zonica LINDEQUE
F
CGA
Discus Throw
83
Leandri GEEL
F
CGA
Hammer Throw
84
Margaretha CUMMING
F
ACNW
Hammer Throw
85
Marinda GREYLING
F
AGN
Hammer Throw
86
Jo-Ane VAN DYK
F
ACNW
Javelin Throw
87
Mckyla VAN DER WESTHUIZEN
F
AGN
Javelin Throw
88
Jana VAN SCHALKWYK
F
BOLA
Javelin Throw
89
Shannon VERSTER
F
AGN
Heptathlon
TEAM MANAGEMENT
1
Jan Daniel  VERSTER
Team Leader
2
Suzan Buang MOLOBYE-MILANZI
Team Manager
3
Jessi Marcelle KAHN
Sprints Coach
4
Paul Sebastian GORRIES
Relay Coach
5
Mathapelo Catherine SKOSANA
Middle /Long Distance Coach
6
Daniel Petrus BADENHORST
Throws Coach
7
Louis  Petrus NIENABER
Jumps Coach
8
Dr. Theo KOEN
Team Doctor
9
Johan HUMAN
Team Physio
10
Tebogo MAGOETE
Masseuse
11
Sergio Basil MULLINS
Masseuse
About Athletics South Africa:
Athletics South Africa (ASA) is the national governing body for the sport of athletics (including Track and Field, Cross Country, Road Running and Race Walking) in South Africa, is a member of the World Athletics and  the Confederation of African Athletics.  The association was formed in 1992 and is based in Johannesburg.
Please support our sponsors: (click on the pic for more info)