"Getrou aan jou drome" was the theme, when 21 children from age 13 and younger were treated to a treat on Tuesday, December 13. 2022 at West Fork Park Small Holdings, near Hopefield.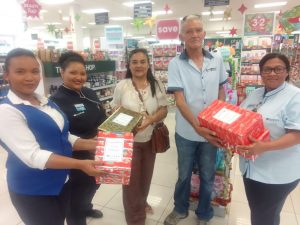 From  left – Right:-   Janome Du Toit, Louanda Owies (Clicks) Jenny  and Andre van Rooi (Androoi Engineering Solutions), and lastly Claudeen Van Wyk (Clicks – West Coast Mall manager.)   The Van Rooi's received the presents for the five top U/14 academic achievers of  Hopefield Primary learners 
A day to remember.
Andre and Jenny van Rooi, owners of the small holdings, made the day possible in collaboration with West Coast Sports Solutions NPO. The aim was to motivate the children, to follow the right path in life. Eight learners from Hopefield Primary received prizes at the occasion, for their achievements for 2022.  Five for academics and three learners who excelled in sports were honored.
The five academic achievers were Jayda Carolus, Megan Paulse, Sycsha Mitchells, Liam Cox, and Juan – Lee Linnard.
The five pupils each received a gift for their hard work, which was sponsored by Clicks West Coast.
Amy van Wyk,  Jevan Adams, and Clinton Phillips are the three athletes who received their Boland athletics colors. They also received a special price.
Gabriel Andrew is seated here with the athletes she sponsors, Clinton Phillips, Amy van Wyk, and Ivan Adams. 
It was certainly a day that all children will remember for a very long time because there was a lot to enjoy.  While there were also loads of goodies to eat and drink for the special guests.
Three athletes and their coach from the Langebaan Strandlopers Athletic Club specially attended the occasion. Verusca Botes (15y), Alfonzo Jordaan (16y), and Leander Pholman (16y) are, among others, Western and Boland champions and even SA track athletics champions.

Their attendance made for more excitement, especially in photo sessions with the learners. The master of ceremonies and also a South African champion in athletics, Clive Cupido was certainly one of the biggest motivators for the children. The Strandlopers Athletic Club's coach, with several athletic achievements to his name, started the children's day with his motivational speeches.
The day was such a great success for the children that we decided to make it a monthly institution. Here on the smallholding, there is a trampoline and a swimming pool, and it will always be available. A bouncy castle and a slip slide were rented for the first day's guests.
It was really an experience to see the children enjoying themselves – West Coast Sports Solutions
There was a lot for them to enjoy..
We want to thank all the sponsors who help us make the special day for these kids, we really appropriate it.
Androoi Engineering Solutions – Hopefield
Gabriel Andrew – Hopefield
Loubser Taxi Service – Hopefield
Clicks – West Coast
Clico Trading – Somerset Strand
M Executive _ Blue Downs, Eersteriver
Du Wayne Jacobs – Mitchells Plain
John van Wyk – Kuilsriver Fire Department
Please support our sponsors: (click on the pic for more info)