Reporter: – George April
The dream of this woman is to empower young women and oppose gender violence, regardless of their life circumstances.
Charlene standing in front of some of her guests
This is how Charlene Windvogel, the founder and director of CBD Helpende Hande in Elsiesrivier shared her vision with me. Two days before Christmas, the NPO treated 52 women to a Christmas dinner at the AMF Glad Tidings Fellowship Church in Elsiesrivier.
"But before I tell anything about the day, I must first thank certain people, who ensured that the day was a great success," Charlene told me. Dalia Katz from the "Angels Network", Wanita Olivier from the "Victory Outreach" in Goodwood, Kaylee April from the "Enter the present of God Fellowship" in Delft, and of course Eugene Stander, from "Woolworths" in Majiek Forest in Durbanville.
From left:- Kaylee April,  Eugene Stander, and  Wanita Olivier
"Without the people's contribution, the day would never have become a reality, for which we are all very grateful. "The women were from different communities in and around Elsies River." "They come from various circumstances, and our organization tries to encourage the young women"
"That regardless of your circumstances, sadness or vulnerable life circumstances, there are people who care, and who can help." Some of the women have lost both parents, and are therefore very vulnerable." "Our goal is to help the ladies finish school and continue their studies.
We even start with a veggie garden on Mandela Day, Charlene told me.
"My dream is to help the women to improve their lives, and not walk the path that we as older women should have gone through." "We didn't have the privilege of going to study, because we had to go look for work."
"However, times have changed a lot, although the cost of living today does not give many women the privilege of achieving anything in life."
According to Charlene, she started the organization for those very reasons, and it was named after her husband and son.  Both men fully support me to uplift people in various communities.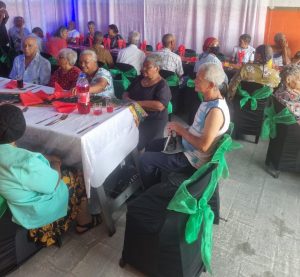 The CBD Helping Hands team also treated seniors and children to a meal in December 2022.
"Thanks to our sponsors, we also offer help to various soup kitchens and try to lift as many people in communities as possible."  "Any donation to help the women break away from their circumstances is more than welcome."
"People or any business that wants to contribute to help these women can visit our Facebook page CBD Helping Hands," Charlene said.
We live in a time where it is becoming more and more difficult for families to survive. Families will rely more and more on NPO or NGO organizations such as CBD Helping Hands' Charlene's kindness. Organizations are increasingly relying on businesses for help. With the load-shedding crises, the country's economy is on a knife edge, but there will always be businesses that will be willing to help.
Organizations that do the same like CBD send your community stories for posting on our website. Businesses use the platform to advertise their businesses, so they will notice your good deed.
We have a form on our website, and your organization's good works will be posted for free. Unemployment in our country is a reality, and families are becoming more dependent on organizations for a meal.
So let us join hands and support the wavering.
Please support our sponsors: (click on the pic for more info)