HOPEFIELD:- More than two years ago, a contagious disease paralyzed the world with an unknown variant, Covid 19.
Photo below: – Athletes took part in the SA Cross-Country competition on August 19. 2019.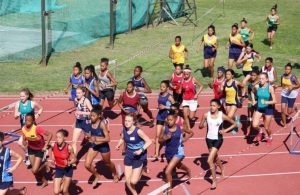 Even sports competitions were stopped because everyone suddenly had to adapt and stay indoors. Well, although the unknown variant according to experts is still with us, certain things have at least changed. People can start participating in sports again, but with certain strict rules in place.
WCSS received the following letter about the Cross-Country skiing from Christopher Rogers, main organizer on the West Coast ……
"First sorry for the short notice, but those were factors beyond my control".  "The cross country season is upon us and I would like to pass on the following information". "Unfortunately, all the places of presentation have not been filled yet, but we are working on it".  "The cross country qualifying races kick off this Saturday, May 7. with the first one taking place at the Topolino Pre-Primary School in Langebaan.
Information:
Six league races will be hosted in all the regions, and with us,  we will participate in 3 regions, and it is Swartland, Lower West Coast and Upper West Coast each with its own coordinator. Athletes must compete in 5 of the leagues to make the West Coast team, which then participates in the Boland XC Championships, to make the Boland team. The dates for the leagues are listed in the program below as well as the Provincial and National events.
Clubs and schools may participate, but club athletes must have an ASA permanent license number. but the requirements do not apply to school athletes. Attached registration form is used and the registration fee is R15,00 per athlete. Attached program and age categories are mandatory. All results are sent weekly to the Boland Athletics Office, and must be done within 5 days after the league has been concluded. All cross-country trails are completed on Google Maps and sent to the Boland Athletics Office. The selection criteria for Boland Schools and Boland Athletics Cross Country will be communicated. You will also receive weekly results and letters with information, if you are in contact with organizers.
However, here are the dates of the ASA Boland regions' races.: –
14 and 21 May.
June 4.
July 30
with August 6 as the last qualifier, with the Boland Athletics X-Country Championships taking place in the Dal Josafat Stadium in Paarl. The BA Country Commission Boland Schools competitions take place on the same day.
For any queries, call or send whatsapp to Christopher Rogers (West Coast)  on 073 232 0046 or Elmarie Maruis (Swartland) on 084 517 4692
Please support our sponsors: (click on the pic for more info)