CAPE TOWN:- The SPAR Women's Challenge will be held virtually, and on a national basis, again this year.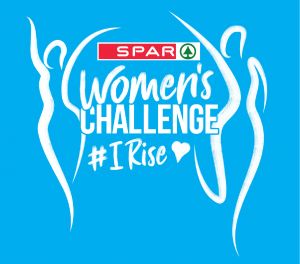 It is all happening on Saturday, 3 September. Entrants will once again be able to make South Africa's 'Most Beautiful' race truly their own. SPAR have announced that this popular event will be virtual throughout the country, due to uncertainties that still pervade round Covid and the hosting of large live events
"For the safety of our participants, based on the fluctuating regulations pertaining to Covid and the unprecedented times we still find ourselves in, we have gone virtual again this year," says Elsabe van Zyl-Felix, Advertising Manager for SPAR Western Cape. The challenge encourages participants, mainly women, to set their own fitness goals and to run, jog or walk the 'race' at their own pace. They can really do anything that is fun and related to fitness. It will be held virtually from 06:00 in the morning till 18:00 in the evening. Anyone of any ability can participate and it can be completed in any location.
"Even though it's virtual, it does not mean we have compromised on the fun! Get your friends together, work out a route in your local community and share all the fun by tagging us in your pictures," are the words of encouragement from SPAR Western Cape's Elsabe van Zyl-Felix. The theme for this year's SPAR Women's Virtual Challenge is #IRise and seeks to inspire women who enter to push themselves to rise above their challenges and to aspire to their highest fitness and well-being. With this theme, there is an underlying universal message of coming together, running together and supporting each other to shatter any glass ceilings, to face our fears and redefine our own limits.
Entries open 12 May online at www.sparwomenschallenge.co.za. It costs R120 to enter. This includes an entry pack with a t-shirt, peak, neck buff, medal, magazine and snack – all packaged in an attractive re-usable bag. The SPAR Women's Challenge has always had a charitable aspect. SPAR takes pride in living out their values of family, passion and entrepreneurship and feels strongly that each girl has the right to an education. For every entry received, SPAR will donate a pack of sanitary pads, which will be distributed via their Petals Project in partnership with various charities across the country.
* Online entries closes on Saturday, 13 August @ midnight
* Race entry fees:
10km Virtual Run/Walk: R120
5km Virtual Fun Run/Walk: R120
Along with the Women's Virtual Challenge is the SPAR Grand Prix Series
Notably the SPAR Women's Virtual Challenge will not form part of the Grand Prix Series this year. Six standalone, invitational races aim to give top runners a chance to compete and win substantial cash prizes. The Grand Prix races will be held in Gqeberha [PE] on 28 May, Durban on 26 June, Mbombela 16 July, Tshwane 6 August, Johannesburg 2 October and Cape Town 23 October. More information will be released in this regard.
/ENDS/
Issued on behalf of SPAR Western Cape by TaylorTalk PR
For more info contact: Anne Taylor | M 082 419 0077 | E anne@taylortalk.co.za
Please support our sponsors: (click on the pic for more info)