Everything is in place for the first U/19 Heritage 7's tournament on the Gene Louw Sports Grounds in Moorreesburg, where only one West Coast School is prepared to accept the challenges.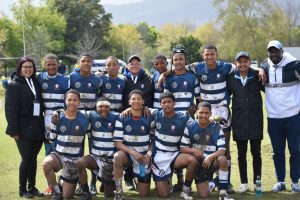 The U/17 JSC Foundation 7's team of Wellington, with the JSC  management. (No, they're not playing).

Four Western Province (WP) teams will participate, while the rest of the teams from the Boland region have accepted the invitation to participate.
Diazville High School of Saldanha Bay is the only West Coast team, having the guts to challenge the best.
From the Cape Peninsula, Cape Knights and Connect Knights from Bosmansdam High school, with the Hamlets Junior 7's from Mamre and the Technical High School Proteus from Atlantis, is the challengers under the Western Province teams.
Malmesbury's Schoonspruit High school, Majestics from Citrusdal, Steynville Senior Secondary School in Piketberg,  Riebeeck United from Riebeeck West and the team from Wellington, JSA Foundation,  are some of the teams from the Boland region in the challenge.
The kick-off of matches is Saturday morning at 9am, which promises to be a very exciting tournament.
Access is as follows…
Adults R30
Primary school children R10
Vehicles R10
PS: – There is still a back door open for two teams who will still be interested in competing for the match amount of R30 000.
Entry fees are R250
If you are interested, send a WhatsApp message with your email address to 063 487 3657
Please support our sponsors: (click on the pic for more info)