The following athletes were the guests of honor on Tuesday 13 December 2022 at the motivation day organized for our Hopefield Primary School children.

Alfonzo Jordaan from Vredenburg is the current Boland and Western Cape Cross Country Champion for boys U/16. He was also 10th in the South African Club Championships and 11th in the SA Schools competition.
Verusca Botes from Langebaan received Boland and Western Province colors for girls' U/15 for Cross Country.
Leander Pholman 16-year-old Elsen Schools athlete does not need much introduction. He is the current Boland and West Cape Elsen Schools U/17 track champion in the 800m and 400 meters. Besides being the SA track champion, he was 7th in the SA Schools competition.
Leander is also the current Elsen Skole Boland 400 meters and high jump record holder for boys U/17. All three athletes are members of The Strandloper Athletic Club in Langebaan, where Clive Cupido is their coach.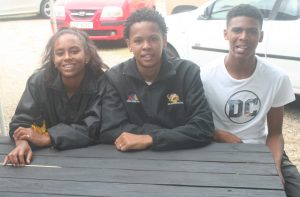 From left to right; Verusca Botes, Alfonzo Jordaan and Leander Pholman.
Cupido himself is one of the best athletes in South Africa, for the age group 55 to 59 years. He is the current SA champion, Boland, and Western Cape champion in the 400m, 800m, and 1500-meter track holder and pole vault. Clive Cupido is also the current Boland Athletics Masters Sportsman of the Year. Clive Cupido was also the master of ceremonies and motivational speaker, and he certainly had a big impact on motivating the children.
WCSS wishes for the 2023 athletics season,  that Cupid should assist our 72-year-old rugby and athletics rugby player and coach, Nico Louw, in the athletics coaching of our children in Hopefield.
West Coast Sports Solutions is asking parents from Hopefield to cooperate with the organization so that our children can live out their sporting dreams.  As our Mr. Nico Louw rightly said to me on Monday; "We have lots of sports talent among our children, so only the parents have to work together".
Our organization will also try to help children who excel academically, and whose parents may be struggling with unwanted financial expenses. Parents should just keep their children in school, and ask when they need any help.
"LET'S GET THE 2023 TERM IN OUR HANDS AND MAKE IT WORK FOR YOUR CHILD OR CHILDREN"
Please support our sponsors: (click on the pic for more info)