Athletes from The West Coast School in Saldanha Bay performed brilliantly last week at the South African Schools Athletics (LSEN) Championships in Germiston, Gauteng.
On day one, Eldrio September set a first new record for boys U/19, when he jumped a distance of 6.79 metres. On the same day, Charlton Andrews finished third for boys U/15 in the 1500 meters race.
On Tuesday the 4th of April, Leander Pholman also set a record, this time in the 400 meter race, in a time of 49.55 minutes.    And although not a record, Eldrio came first in the 100 meter race for boys U/19 to take home his gold.  Makayla van Heerden achieved second place in the 400 meters for girls U/17 for her silver madel, with Djani Banjamine winning gold  for boys U/15 in the 400m race.
On the last day of the  tournament, the athletes from Saldanha Bay's West Coast School properly turn on the taps.  Leander Pholman receives gold for his first place in the 800 meter race for boys U/17.  This was before Eldrio September set a new record in the 200 metres, in a fast time of 22.02 seconds for boys U/19
With Genevie Bester achieving third place in the 200m race for girls 0/17To end the tournament, the relay teams' 0/17 team wins gold.   But the candle on the cake was the U/19's,  4 @ 100 (400m) meter relay,  the last item on the Championship's sports calendar. The West Coast School's relay team made sure they took the gold medal. To their surprise,  which was also a new SASA relay record.
This brings the school's medals to 11 medals, which include 7 gold, 2 silver and 2 bronze medals. Considering that the country's best athletes competed, this is a special achievement for the same school's athletes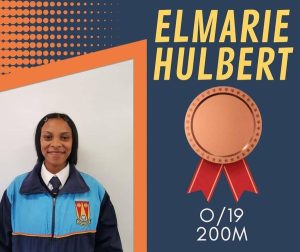 Please support our sponsors: (click on the pic for more info)