West Coast Wimpy 1 – Stop on the R27 road near Langebaan,  spoiled for the second time top SA champion athletes, after the organization approached the store.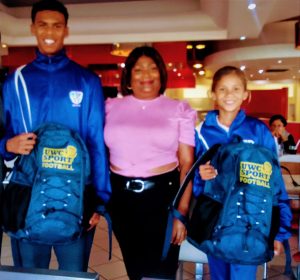 Above are the two proud champions with their gifts they received from the University of the Western Cape. Between the two athletes stands Andeline Williams, a WEST COAST SPORTS SOLUTIONS  board member who handed over the bags to the two stars.

But the biggest surprise of the day, however, was the tracksuits, shorts, sweaters and wool caps that the two athletes received. The goodies were sponsored to them by UWC (University of the Western Cape) The two athletes from Langebaan are both South African champions, having both smashed existing records.
Langebaan's two athletics stars, Leander and Angel Pholman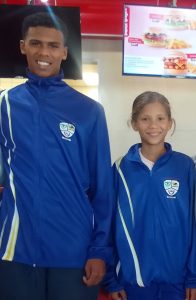 Angel Pholman (11y) smashed the 1200m existing SA Schools record in Pietermaritzburg two weeks ago.  It was also her personal best time of 3.52.46 seconds. The learner at Langebaan Primer, is a member of the Langebaan Athletics Club.
Leander Pholman (16y) already at the age of 13 started showing hooks to his opponents in all events in which he participated. However, it was last year at the age of 16 that he started winning all competitions. Leander's personal best time and a Boland record, is his time in the 200m of 23.7 seconds. And to top it off, he set a new PB – and a new Elsen Boland School record – at 1.85m for the high jump.
Below are the two stars among the hospitable staff of West Coast Wimpy One-Stop
* Four Boland Championship Medals to his name *
On 24 February 2022 at Paarl, he ran the 200m at the Dal Josafat stadium in 23.8 seconds, 800m in 2.04s, 40m in 50.8 seconds, and did the high jump. Due to the heats and finals, his team decided to cut the 200m as the physical load was too much.
 One week later at the Western Cape Championship. Leander ran the 800m in 2.02 minutes, 400m in 50.7 seconds. Although he did the high jump, he was second in his age group. However, it was at the South African Championships where the athlete from Langebaan showed his mettle. It was a cold and wet rainy day in Germiston, Leander injured his knee starting from the high jump mat.
* Two National Championship titles to his name *

He, however, ran the 400m heat and final with an injured knee, and he also became a South African Champion in both events… Leander will again take part in the SA National Championships in Germiston from Saturday 2 April to 5 April. I asked him at the Wimpy shop,  if there were any injuries, and if he was ready for the big tournament.
He said without hesitation and cheerfully that he was "ready".
Please support our sponsors: (click on the pic for more info)