The CAA Africa Championships came to an end yesterday (Sunday 12 June 2022), with Jo-Ann van Dyk already underlining the South African medal success on day 4 with her javelin throw on Saturday.
Jo-Ane van Dyk winning gold in Javelin. Pic by Clyde Koa Wing
The country's top women javelin throwers shine on Saturday,  securing a clean sweep of the podium for the SA team on Day 4 of the CAA Africa Senior Athletics Championships in Mauritius.
Jo-Ane van Dyk won gold in the final with a best effort of 60.65m,  with McKyla van der Westhuizen  grabbing silver (55.55m)  and Jana van Schalkwyk bronze (54.49m). The national team also won two medals in the decathlon, with former African champion Fredriech Pretorius winning silver with 7,504 points, while compatriot Jesse Perez won bronze (7,396).
"After the year I experienced injuries and could not train properly, I am satisfied with my performance," said Pretorius. "This year was not ideal for me in terms of athletics.  "I now have a baby and I got married, but having another medal still brings me so much joy.   "In the men's pole vault, Valco van Wyk won bronze and cleared the bar at 4.90m in a final won by Algerian athlete Medhi Rouana (5.30 m).
"It was a good fighting day, with gold in a bag full of other medals.  "For this we are grateful to all medal winners,  coaches,  support staff and the entire management.  "Tomorrow is the last day and we have another chance to ensure that we wrestle the African crown from Kenya,"  said James Moloi, President of Athletics South Africa.
With six more medals in the bag, South Africa remained at the top of the overall standings with a total of 25 medals (6 gold, 9 silver, 10 bronze).  Kenya is in second place with 5 gold, 2 silver, 5 bronze. Nigeria is third with 4 gold, 2 silver, 1 bronze. Algeria is also in fourth place with 4 gold, 2 silver, 1
bronze.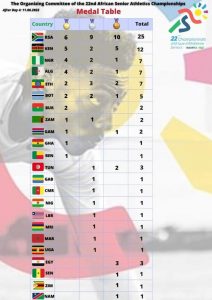 Please support our sponsors: (click on the pic for more info)