Mauritius:-   Sprint sensation Miranda Coetzee and rising pole vault star Mire Reinstorf, secured continental titles on Friday, as the South African team pocketed five more medals on Day 3 of the CAA African Senior Athletics Championships in Mauritius.
Picture:- Sprint sensation Miranda Coetzee winning GOLD…!!!
Coetzee delivered a superb performance to win gold in the women's 400m sprint. She crossed the finish line in 51.82 seconds, well clear of Zambian athlete Niddy Mingilishi, who took second place in 52.36. "It feels awesome.  "This is my first African Championships and I'm excited and proud to take a gold medal for my country," said Coetzee, who has enjoyed a breakthrough season. Reinstorf, who won the world junior title last year, added the African crown by sailing over the bar at 3.80m to win the women's pole vault final. Her compatriot, Nicole Jansen van Rensburg, earned bronze by clearing 3.70m. Compatriot Erica Moolman also went over at 3.70m, finishing fourth and narrowly missing out on a medal on count back.
Bruintjies struggling with injuries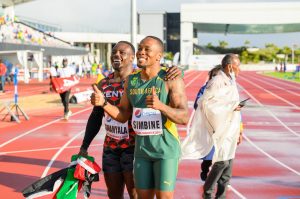 Picture:- Ferdinand Omanyala (left) and Akani Simbine  – Pics by Clyde Koa Wing

The SA squad also bagged silver medals in the men's and women's 4x100m relay events. Henricho Bruintjies, Cheswill Johnson, Antonio Alkana and Benjamin Richardson combined to take second place in 39.28, with Kenya winning gold in the men's contest in 39.79. In the women's race, Marzaan Loots, Banele Shabangu, Charlize Eilerd and Phindile Khubheka took the runner-up spot in 44.87, with Nigeria taking gold in 44.45. "It has been good for me to come out here and pick up two medals," said Bruintjies, who was third in the men's 100m final the day before. I've been struggling with injuries the last couple of years, so to be where I am now from where I was is amazing. To be on the podium again, I cherish these moments."
South Africa ahead of defending champions on medals
The SA squad retained their place at the top of the medals table with two days of competition remaining at the CAA African Championships. At the end of day three they had a total of 19 medals in the bag (5 golds, 7 silver, 7 bronze). Defending champions Kenya is on 4 golds, 2 silver and 5 bronze.
"It's a tremendous day for South Africa crowned by the two golds. We are thankful for every medal we win and we applaud all medalists, their coaches and team management for another successful day under unfriendly weather.  "This is the type of resilience that we are made of as a nation. We dust ourselves to fight another day. With the weather predictions suggesting continuous bad weather until Sunday (the last day of competition), we look to each athlete to hold their nerves and perform within the conditions of the day," said James Moloi, the President of Athletics
South Africa.Medals Table – Day 3
Please support our sponsors: (click on the pic for more info)