SALDANHA BAY:- The ASA (Athletic South Africa) West Coast Cross Country athletics qualifying took place on Saturday 28 May 2022 in the Saldanha Bay Military Academy.
With three races behind, Abigail Fortuin of Darling, who is a member of Swartland Athletics Club in Malmesbury, now had to take part in two west coast races.  On Wednesday the pebbles punched her feet, and on Saturday it was thorns' turn. It is not yet certain whether this coming Saturday's fourth outing will take place in Langebaan Road, or again in Saldanha Bay. Wherever it will be,  Abigail will not be able to attend this weekend's race.
Below:- A bright future in athletics awaits the two daughters, Courtney Cloete (left) and Leverne Bester
Abigail by no means uses the thorns and stones as an excuse for her performances, but it is understandable that her feet will be soft. She last ran barefoot before Covid 19 started.  She sent me a picture on Saturday night, saying, "we're taking out more thorns that have broken off in my feet".
But it was Courtney Cloete (18 years) from Diazville High School in Saldanha and Leverne Bester  (also 18 years)  from Weston Senior Secondary School in Vredenburg who ran fantastically.  The daughter of Saldanha completed the 6km route in 27.49s, while the Velddrif daughter of Weston, completed the same distance in 28.46s.  The 66-year-old Louis Claassen from the Strandloper Athletics Club in Langebaan braved the 6km together and finished ridiculously easily in 25.31 seconds.  Abigail finished almost 10m minutes behind Courtney in an unofficial time of 39.07 seconds

Below:- Winners – Courtney Cloete from Diazville High School, Leverne Bester from Weston Senior Secondary School and Louis Claassen from the Strandloper Athletics Club

Picture below"- Louis Claassen (66years) of the Strandloper Athletic Club,  running strong in the 6 km race, to finished first.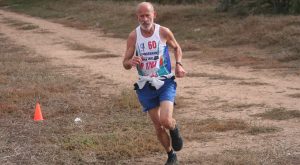 Picture below:- Abigail Fortuin (18y) former two times  South African Cross-Country champion, posed above with the winner of Saturday's qualifiers, Courtney Cloete from Diasville High School
Businesses interested in advertising on our website can send an email for inquiries to pjprins@gmail.com. On our home page is an example of how you can benefit from your ads. Your contribution can also help us to help an underprivileged athlete.
Please support our sponsors: (click on the pic for more info)